Elegant
Camping Pods
Nights away need not be complicated, cold or costly.
A stay in one of our Luxurious Pods gives you all the camping adventure, and none of the
rigmarole

!
Each Glamping Pod is set into the hillside with incredible views of Tolkein-Esque Yorkshire scenery. All have ample light and generous heating ensuring they are cosy places designed to make you smile even if the weather lets you down.
With practical relaxation in mind each Pod also has its own stay clean decking area with table & chairs to while away pleasant evenings watching the sun go down and lazy days with a good book. All pods are equipped with microwave, fridge, kettle, crockery, cutlery, washing up bowl, dishcloth and tea towel.
You'll find everything you need to make that first  welcoming cuppa on arrival , or perhaps you might prefer to sit and admire the view , complimentary glass of wine to hand.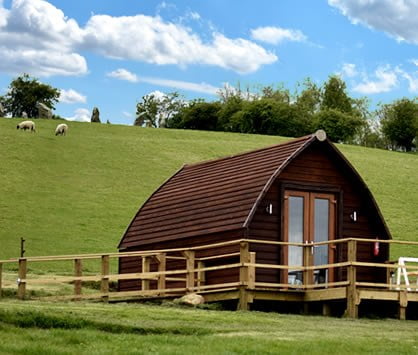 We take your safety seriously you will arrive to a fully cleaned & sterlised pod with freshly made beds ready and waiting for you. During our busy season April – October we do ask that you book a minimum of 2 nights Pod accommodation.
A non-returnable £60 deposit is required to secure your booking of either Wolf Hall or Bear's Den, and £30 deposit for Dove Cote. Please contact us for further information and watch out for our special offers.
Dove Cote
One custom made Double Bed
Single Level Pod
Bear's Den
Custom Double Bed on the ground floor, One Double Mezzanine Bed
Main Floor & Child's Mezzanine
Wolf Hall
Rollout Queen Sofabed & 2 Single Beds in Curtained Room
Single level Pod
All Pricing is Per Pod, Per Night.
There will be a one-off £9.00 service charge for each visit to pay for COVID19 Cleaning & Sterilisation before each new set of guests arrive.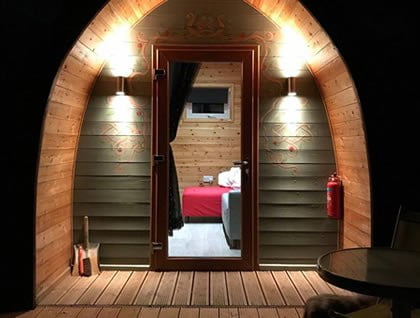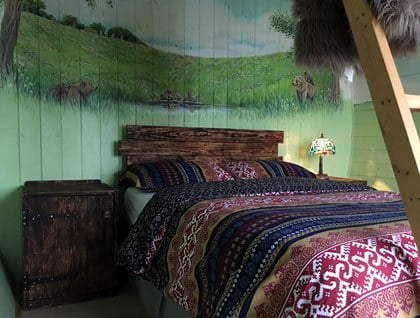 Dove Cote
One Custom made Double Bed
All Ground Level
~ Electric Sockets
~ Heater & Lights
Own Decking Area
Deposit ~ £30
Bear's Den
One Custom Double Sofabed
Plus Double Mezzanine Bed (By Ladder)
~ Electric Sockets
~ Heater & Lights
Own Decking Area
Deposit ~ £60
Wolf Hall
Rollout Queen Double + Two Single Beds
– Access Ramp Included
~ Electric Sockets
~ Heater & Lights
Own Decking Area
Deposit ~ £60